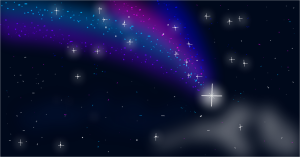 When you wish upon a star
All those stars in the heavens afar
You gaze above and find no clues
As to which star you would want to choose
So you search the sky for that special star
The one star you hope to cling on to
Too many stars in the blue, which do you pursue
Which star will make your wish come true?
You leave your window and lie in bed
Holding that wish you wished for in your head
You keep that thought. You hold that feeling.
As you ponder the stars that shine on your ceiling
Twinkle twinkle little star
I often wonder where you are
High above my ceiling bright
Will my wish come true tonight?
Starlight starbright
Will you shine for me tonight?
Will you shine an indigo hue?
Will you make my wish come true?
You get no answer. You find no peace.
You get no response. You find no release.
And although you feel that it may not seem right
Tomorrow will always bring another night